Situated on Banderas Bay, the largest bay in Mexico, Puerto Vallarta is in the state of Jalisco, home to Mariachi, Tequila, quaint villages and beautiful beaches loaded fun activities like Para-sailing, whale watching, surfing, or just laying under a palapa. It is easy to rent Jet Ski's and sailboats and there is always something adventurous to do along the Bay. Vallarta remains one of the most captivating and comfortable vacation places on Earth.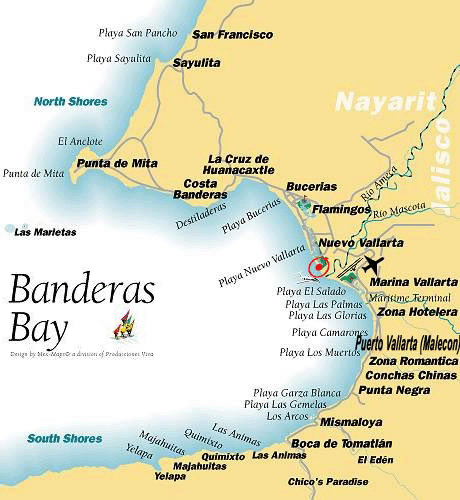 Villa Magna is strategically located between all of the beautiful towns that are fun to visit. So make sure you go South to the quaint town of Puerto Vallarta (The Malecon) and go North to visit Bucerias, Sayulita, Punta de Mita, LaCruz and all the charming towns where you can enjoy open air restaurants, flea markets, music festivals, and beautiful beaches.
When all you want to do is have a lazy day, just go down the elevator and you will enjoy our beautiful private beach with palapas, and 3 gorgeous pools. There is security that insures that only the residents and renters of Villa Magna have beach privileges. The beach is soft and free from debris and rocks. Villa Magna is located in the middle of the Bay, the waves create a magical beach where debris and rocks wash out and results in a sandy bottom and a shore that is shallow to your knees for approximately a half mile into the water making it the most ideal beach on the Bay!