Enjoy picturesque and historical Puerto Vallarta! Fabulous restaurants and shops as well as taking in the waterfront and the local arts and craft show. We just can't get enough of going to town and enjoying our favorite things to do!
With warm temperatures year-round, almost every day of the year is great for the beach, and with 25 miles of sheltered beaches—go for it! Dress comfortable and casual. Be sure to bring a bathing suit and sunglasses. A light sweater for night time may be comfortable, as some evenings may be cool.
If you come during the summer months, it would be wise to bring some insect repellant and prepare for possible showers or thunderstorms. The summer weather is usually balmy. A heavy jacket would only be needed if you make an excursion into the mountains.
Winter months such as January could have some breezy and cool nights.
Today's Weather in Puerto Vallarta

Weather Channel
Whatever the weather,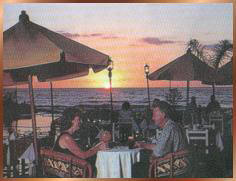 be prepared with plenty of sun protection!
Dining
Puerto Vallarta has over 400 eating establishments—from street stands to gourmet restaurants serving cuisine from around the world. The majority of the restaurants in Puerto Vallarta use only purified water and ice, and their salads are washed to assure your safety. You can enjoy them with confidence. Here are some places for great dining:

Remembranzas, serving gourmet Mexican cuisine in an authentic Hacienda setting. Casual dining, fine music, wonderful ambiance. Open daily for dinner. Located at Pulpito 242 and Highway 200, just south of Old Town. 222-5342.

El Palomar is a lovely Spanish colonial home, set in the hills overlooking the bay, serving original Gonzalez family recipes featuring jumbo shrimp, lobster, filet. Located at Auacate 425. Phone for reservations at 222-0795 or 222-2795.

The River Cafe on Cuale Island, near the west bridge. Award winning international cuisine featuring shrimp, seafood and steak. Serving breakfast, lunch, dinner. Phone 223-0788.

Cafe Maximilian serves traditional Austrian dishes and Mexican cuisine. 6-11PM. Located at Olas Altas 380, on the beach in Old Town. Phone 223-0760.

Coco Tropical at Basilio Badillo on the beach in Old Town. European cuisine and imported USDA charcoal grilled steaks. 10AM-12PM. Phone 222-5485.

Puerto Vallarta Restaurant Guide …provides a great list of restaurants, cafes and bars featuring everything from budget selections to the most exquisite gourmet food.
— page up —
Art
Puerto Vallarta is a leading art center with fine art on display in more than 30 galleries and public buildings. The Malecon boardwalk along the beach is adorned with modern and traditional sculptures, enhancing the charm of this colonial village setting.
— page up —
Shopping
Having hundreds of interesting shops to browse through, this is a shoppers paradise! Fine jewelry in silver, gold and precious stones. Handicrafts of glass, ceramics, leather, wrought iron, copper and wood. Photographs, clothes, antiques and souvenirs. Besides the fun of looking, there are great prices!
— page up —
Water Sports & Deep Sea Fishing
With a wealth of 25 miles of tropical beaches along the second largest bay in the Americas, Puerto Vallarta abounds in the entertainment of the sea. There is water skiing, wind surfing, deep sea fishing, sailing, scuba diving, swimming with dolphins, snorkeling, kayaking, parasailing, catamaran and yacht excursions, and more.

Princesa Cruises offers a choice of 5 vessels voyaging to isolated beaches and natural waterfalls. One of the best ways to see Vallartas exotic places.

If you ever wanted to learn how to dive, or if you're an experienced diver, Chico's Dive Shop,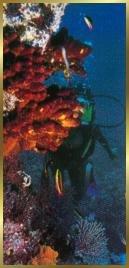 is the place for you! Dive trips, snorkeling expeditions, scuba courses, whale watching and jungle tours.

Scuba dive the beautiful waters of Banderas Bay with the tours of Twin Dolphins Resort Center. Scuba trips, sales and rental, charters and dolphin encounters.

Vallarta Adventures has several exciting tours. Swim with the dolphins, go scuba diving, take a snorkel tour, whale watch, go sailing, or charter a private flights right from Nuevo Vallarta.

Puerto Vallarta Fishing: With the lowest prices on fishing charters in Puerto Vallarta. Deeply discounted shared fishing and private charters, plus a free Puerto Vallarta Discount Card!
— page up —
Eco Tours

The friendly faces of Puerto Vallarta Tours. Discounts on every tour and excursion in Puerto Vallarta plus a free discount card to boot. Choice of tours includes: ATV tours, canopy tours, dune buggies, golf, hiking, horseback riding, hot air balloon, jungle tours, mountain biking, nightlife, sea turtles, sightseeing, boat charters, day cruises, deep sea fishing, dolphin encounter, sailing trips, scuba classes, scuba diving, sea lion swims, snorkeling, sunset cruises, water parks, whale watching. 24-Hour toll-free customer service. Let us help you have a wonderful vacation here in Puerto Vallarta Mexico.

Mountain biking and hiking for all levels of skill, to a variety of environs. Professional guides in the real Mexico.

Rancho El Charro offers a variety of horseback riding tours. From 3 hours to a full day in the tropical countryside, enjoy a meal, the sights of wild orchids, and exotic birds!

For a list of additional tours try this link to Go2Vallarta.com.
Birding Tours
With more than 300 species of birds, Puerto Vallarta is called "El Paraiso" or "The Paradise"—including some rare birds such as the Russet-crowned Motmot, Laughing Falcon, Citroline Troggon, Blue footed Booby and Military Macaw. Come and have a relaxing stay at Our Dream Condo between your birding excursions!

Puerto Vallarta is the place to go for birders. Four birding tours from this Birding Mexico site.

Discover coastal-marshland and mountain slope Birding in Puerto Vallarta.

Take a canopy tour, gliding through the jungle's treetops, experiencing the sights and sounds of Mexico's magnificent jungle. Four additional tours offered from this Birding in Mexico site.

A good birding research site is wingsbirds.com.
Golf
Puerto Vallarta is becoming a major golf destination with important golf tournaments here each year.

Public golfing is available at Marina Club de Golf, a challenging 18 hole course designed by American architect Joe Finger. Located in Marina Vallarta with the beach on one side, and the Marina on the other, this is an enjoyable challenge

The Four Seasons Golf Course in Punta Mita is a spectacular setting of ocean vistas designed by Jack Nicklaus for players of all levels. World-class club house offers private lessons and clinics with professional golfer Sam Logan.

The Flamingos Golf and Country Club is another 18 hole championship course open to the public for any level of player, offering beautiful views of the ocean.
Puerto Vallarta Links

VallartaInfo.com is a fabulous site filled with tons of insider information. Maps, bus routes, water taxi's, restaurants. Terrific!

BanderasNews.com Banderas Bay News! A great Web site for learning what's happening around the Bay; Vallarta weddings, restaurants, night life, movies, PV events calendar, weather, travel news, maps and much, much more!

VallartaSource.com Your ONE source for EVERYTHING Vallarta / Complete guide to EVERYTHING Puerto Vallarta, from hotels to dining and shopping, tours and clubs, and everything in-between!

PuertoVallarta.net The official site of the Puerto Vallarta Tourism Board—a wealth of information regarding what's new in PV, and fun things to do.

VallartaOnline.com Special events, maps, movies, what to do, restaurants, shopping, transportation, sports and recreation.

AllAboutPuertoVallarta.com Sport fishing information, printable maps, restaurants, shopping, art galleries, tours, tennis, golf courses and more.
Points of Interest
Church of Guadalupe. A must see! Off the Malecon at the main square.

Famous seahorse sculpture on the Malecon by the 'Lighthouse.'

Stroll the Malecon. Enjoy the surf, sculptures and shops.

Los Arcos (the Arches). Across from the main square. Here plays and dances are performed.

Los Muertos Pier.

Olas Altas Beach.

Isla Cuale. Rio Cuale splits Puerto Vallarta in half. The island hosts numerous shops and dining spots.

Mismaloya—where Night of the Iguana was filmed.

Gringo Gultch. In the hills behind the Cathedral. In this neighborhood is Casa Kimberly—the former home of Elizabeth Taylor.

Marina. Shops, dining, yachts. One of the best marinas in the world!

Stroll the streets of Juarez and Morelos. Visit Bucerias, Sayulita, Punta Mita for beautiful shops, beaches and flea markets!

Old Town. Shops, dining, history and more.

Go North from Nuevo Vallarta to Bucerias, Sayulita, and Punta Mita to enjoy charming towns, filled with flea markets, quaint shops, surfing and whale watching.