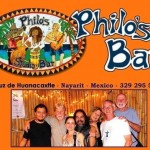 Music, music, music.  Everywhere you go there is live music playing in  La Cruz  (just past Bucerias) there is live music at Britannia's, Ya Ya's, Anna Banana's, Cascada's, Hikuri's, Black forest, even in the plaza during the new farmer's market on Sundays.
Philo's is now open on Sundays and everyday except Mondays. Philo and the Mexican Shuffle Band play every Thursday, Friday and Saturday night.  Music starts at 8 p.m.
This is a family oriented type of bar/restaurant.  I just loved Philo's fantastic band, the calypso music and dancing until midnight!   Don't miss a night at Philo's in La Cruz!!