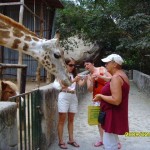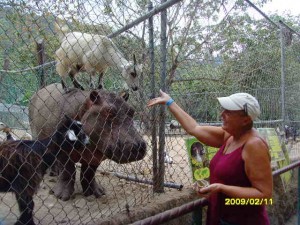 In Chicago we have Brookfield Zoo, considered one of the best in the country.  In Puerto Vallarta we have an altogether different type of zoo in that you can get much closer to the animals and interact with them..ummm…maybe more than you should!  We ended up petting the giraffe, feeding flamingoes and hippo's right from our hands and we witnessed a goat catching a ride on the back of the hippo! Yes, the rules are more relaxed but that makes for a great experience if you have the guts 🙂    I have to admit that this day trip to the Zoo and lunch at the Vista Grill afterwards is one of my finest memories.
Sherry, Ann, Chris and I had s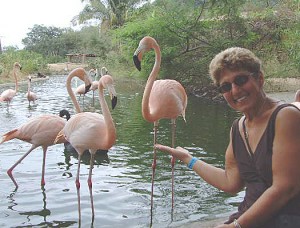 o much fun that day!  Just not sure I liked how much those Pink Flamingo's followed me (Maybe because I am Italian, lol).  We were able to get so close and feed most of the animals.  Very cool!