Villa Magna has a reciprocal arrangement with El Tigre Private club associated with Paradise Village.  Proving residency gets us a better rate and it is right around the corner from the condo on the Bay.  We enjoy some very challenging holes and as part of the ambiance El Tigre has two huge black cages that surround the gate where two black tiger's live.  I love taking my visitors to the cages when the tiger's are being fed…interesting!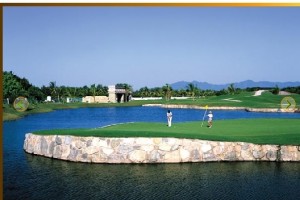 The LPGA has played a couple of tournaments there, including the LPGA's first International event in 2010.  I ride my bike there and enjoy a wonderful lunch with the girls.  Often you see someone you think you should recognize with media following them and body guards!
El Tigre is one of my favorites but I am also a big fan of Vallarta's Jack Nicklaus course up top the Sierra Madres.  Gorgeous!
What I really love is that all the courses rent new Taylor Made equipment for about 480 pesos (approx. $50) so my friends that visit don't usually lug their clubs.
Probably my all time favorite golf course is Vista Vallarta.  Going to the golf course entails a long winding ride up the mountain until the beautiful white clubhouse veiled in colorful Buganvia's looms into your view.  Outstanding!  Both the Nicklaus and the Weiskopf courses are challenging and losing a ball or two is a given! Check it out at:
Click this link to see more info on Vista Vallarta Golf